We are six weeks into the 2010-11 school year, and now that the dust has settled, some inspiration has hit to get me blogging again.
Recently, a third grade teacher asked me if there were any podcasts "out there" that taught the parts of speech. She was looking for some reinforcement for the nouns work that they were doing in the classroom. This would be a good avenue to reach the different learning styles in her classroom. Excited to get iPods into the hands of third graders, I did a little searching and came across this tremendous resource that I would like to share: mrcoley.com .
This site has wonderful examples of podcasts by both students and teacher (and one fit the bill for the parts of speech topic); however, this site is has even more to offer beyond podcasts. It has gotten me and some of the teachers at my school thinking about how we can use our Nanos in a whole new way: for flash cards.
It's a basic concept that Mr. Brent Coley, a 5th grade teacher, explains with step by step directions and tutorials (Thank you!). Using PowerPoint or Keynote, make simple slides that teach or review a concept. Then save them as pictures that can be loaded on an iPod.  By clicking "next" on the photo album's contents on the iPod, a student can review at his/her own pace. By having the iPod "play" the slide show, it now is more advanced for such subjects as math facts, adding in the element of a timer. Now, third graders are trying to "beat the iPod" to the answer!
Sure, the students could do their fact practice with paper flash cards, but this "hook" of using the iPods makes the learning very exciting and motivating. One teacher reported to me that 19 sets of earbuds came in on one day's notice. (Students have to supply their own earbuds to use our Nanos, and if you don't have earbuds, you can't use them.) She said that getting permission slips back in a timely fashion never happens, but using an iPod got their attention! Engagement is up! (Even in the bus line on the way home, students enthusiastically were telling me that their teacher was signing out the iPods again for another lesson.)
Wondering how slides will look on something as small as an iPod Nano? Here's what an Explorer review that I created looks like: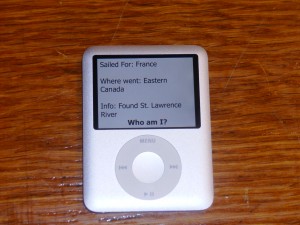 Nothing fancy, but it is easy to read. Its linear fashion allows a student to review for the benchmark by reading a question on one slide and then following up with the answer on the next one.
Everything doesn't have to be in a quiz format either. Perhaps, a teacher could take a PowerPoint that was used to teach a lesson and convert it to work on the iPods, too. Students could use the lesson for reference to do assignments or to study at school or at home on their own device. The implications for special education and ELL  students are vast. I'm even thinking that students could create their own "flash cards" or content slides to share their learning.
My brain is percolating! Where could this take us? I'd love to hear others' thoughts. 🙂
** Don't forget to check out the great examples on Mrs. Coley's site as well.