Last year, in a post entitled Show (And Tell) What You Know Apps, I mentioned the Pic Collage app.
I wanted to share a couple of recent examples because this creation app can help students achieve so many different learning objectives
Self-Reflection on Teamwork
Grade 4 students used Pic Collage to reflect on their Genius Hour group work dynamics. See the examples on their blog here.
Grade 3 students used Pic Collage to make observations of the Abbot Nature Trail. Students had to show evidence of Autumn in photos (that they took themselves) and words. (This project may be replicated for all of the seasons so that a multimedia comparison can be made.)
I also used this app with Grade 3 recently as a part of a Digital Citizenship lesson on private and personal information. Students practiced making online profiles, making sure not to share private information. See mine below:
This online profile activity easily could be modified for an English Language Arts objective with characters in a story or a biography study.
Formative Assessment for Science
Grade 5 students were sent on a scavenger hunt to see how many simple machines they could find (snap photos and label) in the school within a time limit.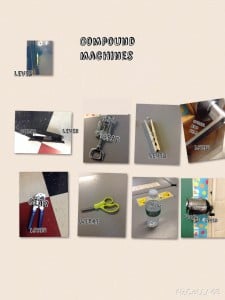 With all three of these activities it was not about the technology, but rather the learning because there is not a lot of time devoted to directions about how to use the app. Pic Collage is easy to use. Take photos and add text quickly.  Arranging and rearranging is simple. The collage shares via email or right to the camera roll where it can be used in another app, moved to an online space or inserted in another document or presentation.
I know that time is a factor these days… so much to do in our school day. I think you will be amazed what learning objective can be undertaken (and even accomplished) in a 45 minute block with this app.
Gotch 'ya thinking? I'd love to chat.