If you are using iPads, you must check out Apple's Everyone Can Create series.
Five, free guide books were released this month:

I attended a session by Apple and did some of the step by step "lessons" in these books… there are so many ideas of how to harness the power or drawings, photos, videos and music into the content area.
What I like is they are utilizing their core, free apps, such as iMovie, Garageband and Camera in many of the suggestions.
For example, one "trick" that I learned has to do with a feature in Photos that I didn't know existed in the new iOS.
Snap a photo using the Camera app. Then open the photo. Choose Edit. There are the usual options such as cropping and color adjustment, but did you know that if you tap on the … (three dot menu) you can choose Markup? You then can use a marker to draw or choose text to annotate on the photo. It then can be saved and used in another app or shared elsewhere. What a simple way to add a title, labels or point out something in a photo for kids. It then can become a part of a bigger culmination of work (like a PicPlayPost media collage).
Here is my attempt at using Markup: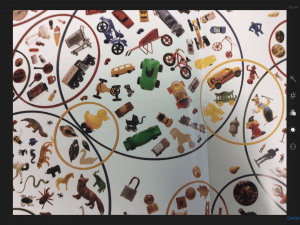 Using an iPad, I took a pic in the Camera app and choose to edit in Photos.
Tapped on … in edit tools and then Markup.
Used the writing utensils to draw an arrow on the photo.
Clicked on the + for more options! Like, Text.
Added a text box and made a caption.
The final result of how it will look when shared.
(Special thanks to the "I Spy School Days" book by Walter Wick and Jean Marzollo at a center outside my office today.)
I seriously am thinking about making a study group to explore the Everyone Can Create guides… would you join?