I have spent the last three months teaching in person.
That, in itself, is a multitude of blog post reflections that may be coming soon.
I personally have been exhausted by the amount of energy it has taken to keep students, faculty and staff safe in our learning environment. We have had to rethink so many of our practices. This challenge often has felt reactive, but I'd like to focus on a proactive measure that was taken by the third grade teachers and me: Badge Bingo.
After the spring of 2020, we knew that the incoming third graders for the fall would need to hit the ground running with their tech skills.
I want to insert here that I have never been a proponent of teaching skills in isolation. I believe that digital tools and services help support and achieve the student learning objectives. However, having been quarantined to our homes unexpectedly, we saw what happens when students need to be able to access the curriculum online, and they just don't have the tech specific routines down.
If you think about it, teachers do this all the time. At the beginning of a school year, you establish expectations and procedures to have your classroom operate smoothly and efficiently so that optimum learning can take place. As a class, you build up slowly and practice what to do. It's the simple things, too. Ask any primary or elementary teacher if it's necessary to go over with students how to enter the classroom, where to hang up coats and bags, and pass in homework, and they will laugh at you like you are crazy even to propose such a question!
With the possibility looming that we would be in a distance learning situation again in the fall, the third grade teachers and I knew we had to come up with a plan to onboard the students. Over the course of the summer through a professional development grant, we reflected on what kids needed to know how to do and broke those digital skills down, making a prioritized list. We then ordered the items and came up with a plan of how to introduce and reinforce these skills during the first month of school. Our goal was to get as far as we could before we were sent home to a remote learning.
Essentially, this is how it worked:
Students were each given a bingo sheet that has the 30 identified skills randomly placed into the rows and columns. (We had five different versions of the board so that not everyone's board was exactly the same.) Below is an example board: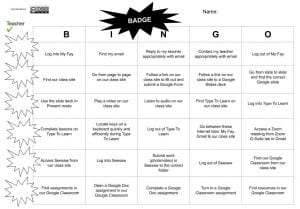 On the first day of school,  boards were passed out to students and introduced as a game that we would be playing daily- often two times per day: first thing in the morning and last thing in the afternoon! Each of these sessions lasted about 30 minutes.
As a skill was demonstrated to students, they would have an opportunity to try out the skill as well. The first time a skill was attempted, students could draw a single diagonal line through the corresponding box on the board. Then within that week, students would perform that skill again. At this second session, students could put a second diagonal line through the box, making an X.
To get a "bingo", a whole row of skill boxes had to be "X"ed. (We did not count columns to keep things manageable.) Third graders got very excited with the anticipation of each day's skill and the call of a"bingo"! And what was the reward- besides achieving five digital skills? Students earned a "badge" that was placed at the front of that row. To keep it easy, we used gold star stickers. Plus, one day, we even started a little impromptu song that seemed to catch on. From that point, every time a star was handed out, the entire class celebrated with the tune. You have to love the enthusiasm of elementary kids and how they can keep the momentum going!
It must be noted that once a skill received an "X", it continued to be revisited since many of the skills were steps in a workflow for getting online and to our Google and other learning services, like Seesaw and Type To Learn.
Badge Bingo was a huge time commitment, but we feel it was worth it!
We somehow made it though to that first week of October in person learning and then a whole month and a half more until Thanksgiving Break. With traveling protocols involving quarantining, we now are teaching remotely during December to remain in compliance and keep everyone safe. I am happy to share that our third graders are doing well using their Chromebooks from home to attend daily live classes and complete their work!