A few years ago when Skype first came on the scene, I worked with some teachers on collaborations that connected students with that tool. For example, we had students play instruments for each other via the video-conferencing software as well as set up a regular picture book reading session with Kindergartners in our district. It was fun, and the students worked on some great communication skills during the process. For some reason or another, we never really expanded our repertoire, and with full content curriculum plates, these activities dwindled. It just happens.
Therefore, when I started participating in our District's elementary teacher Advanced Google Study Group this winter  and watched several SimpleK12 webinars on Google Hangouts, I was reminded of all the wonderful experiences of video-conferencing. I decided it was time to have a go with Google's service and see what we could do.
Sooooo…. I asked a colleague and fellow study group participant to take a risk and join a couple of Google+ Communities with me to get started on the endeavor. (Read my post about Google+ Communities.)  We decided on a Mystery Location "game". She admittedly was nervous as I asked her to put herself out there. Here is the post that she placed in the Mystery Location Calls Community in order for us to get our feet wet: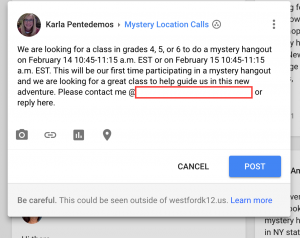 We decided to be flexible with grade levels and dates so that we could "match up" with someone more easily. Mrs. P also had discussed with me that she wanted to do the inaugural Hangout with a smaller group of her students, so she chose a reading block. Furthermore, although we would be making a connection through social studies (geography), students would be working on their English Language Arts skills of speaking and listening. We were surprised how quickly, a teacher contacted Mrs. P and was happy to set up a connection between the classes!
In fact, we had had just enough time to do a search for more information regarding the procedures of Mystery Location Hangouts. We found this great resource from a teacher, Paula Naugle, that outlined the basics so that when Mrs. P replied to the Google+ Community teacher who had contacted Mrs. P we were able to propose an agenda. Moreover, we requested a practice session between teachers to make sure that the permanent Hangout link that we had created was going to work. Unfortunately, snow storms messed with the teacher practice plans; however, I had suggested to Mrs. P that I practice with her students via the link as well so that we could give them a "taste" of what it was going to be like to play Twenty Questions and go over behavioral expectations.
From my laptop on my office desk, I was able to model for students how to speak up and make eye contact with the camera. I also was able to give feedback to students regarding their volume and how to take turns speaking to make things less confusing during a Hangout. Mrs. P had armed her students with maps and  the questions from Ms. Naugle's resource while we practiced. We were able to give them a short trial run and talked about how they would take turns. We worked out a procedure where the questioner remained in the camera seat to act as the answer spokesperson for the group based on the group's thumbs up/down responses.
On the day of the "real" Hangout, we were fresh off another snow day. Mrs. P sent an email to the connecting classroom teacher requesting that we start 15 minutes later to help with prepping materials. She made sure that her students had dry erase markers in hand to mark up wipe off maps. She also wrote the questions on her whiteboard.
And these strategies ended up being genius! Once the initial glitch of having the connecting class join us in the Hangouts call was resolved, (Our link was set only to allow our district to participate… which we quickly changed… something that we would have discovered if snow had not stopped our practice session with the teacher!) the butterflies dissipated. The connecting teacher was so flexible and friendly, putting us at ease. Students got over their shyness and immediately started asking and answering questions, marking up their maps and making notes on the whiteboard. The logical side conversations among students to figure out the state of this connecting class were authentic and on task! Students carefully were making decisions about next questions to ask, and the excitement between the two classes was electric. During this exchange, I witnessed students really focusing and listening to answers that were being shared via the video-conference. In addition, there was no chaos. Manners were evident. Everyone was on a mission!
Did Mrs. P's class guess the correct state in the end and review some good fourth grade regions curriculum?
Yes, they did!
Plus they got a whole lot more… in this thirty minute lesson.
Mrs. P definitely wants to do another one, and so do her students! I think the Mystery Location was a good way for us to start with its structure. Now the possibilities are endless. Just to go to the Google Hangouts in Education (For Educators) Community and see for yourself!
Looking for more resources for Google Hangouts?